Do you want to get away from the hustle and bustle of city life and are looking for that ideal weekend getaway near Bangalore? Then you have come to the right page! Karnataka has many waterfalls which offer one not only a plethora of adventure and fun, but also a chance to unwind and relax.
1. Chunchi Falls
Chunchi Falls is about 90 km from Bangalore. It gets its water from the Arkavati River. Chunchi Falls is situated on the Mekedatu Sangama route. Sangama is the confluence point of three rivers and it flows through Mekedatu, a rocky valley. Chunchi Falls offers a breath-taking experience for travellers and trekkers looking for some fun and adventure.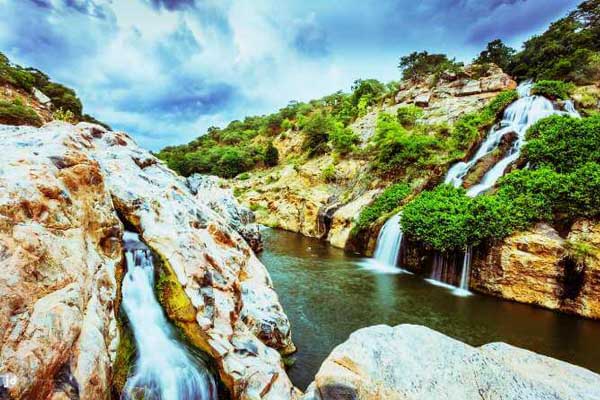 2. Shivanasamudra Falls, Mandya
At a distance of 130 km from Bangalore and 81 km from Mysore, Shivanasamudra is a famous waterfall situated in Mandya District of Karnataka. 'Siva Samudram' literally means 'Shiva's Sea'. It is one of the best waterfalls near Bangalore and also a very popular Bangalore weekend getaways. This place is an amazing sight during the monsoons.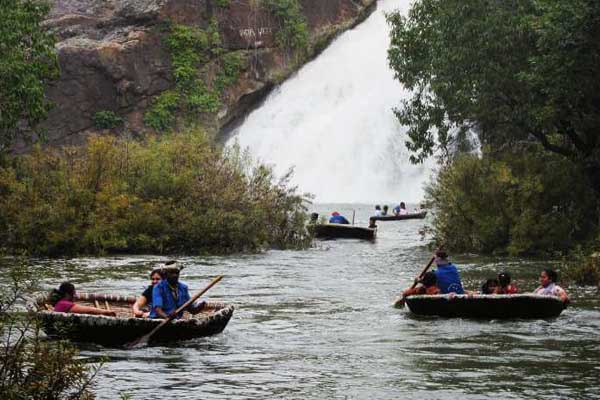 3. Iruppu Falls
Iruppu Falls is a water system that originates in the Brahmagiri Mountain Range. The river Lakshmana Theertha comes flowing down from a height of 169 ft. forming the Iruppu Waterfalls. It is a big tourist attraction and the fall enthrals a large number of visitors every year because of its hypnotic natural beauty.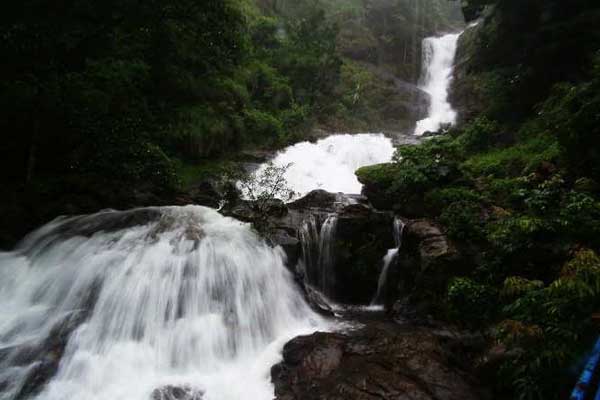 4. Muthyala Maduvu Falls
Muthyala Maduvu Falls or the Pearl Valley Falls is a stream of water flowing down from a height of 92 m. The fall, its tranquil ambience and the lush green valley is a huge crowd puller. Muthyala Maduvu Falls is a beautiful picnic location. It is just about an hour's drive (about 40 kms) from Bangalore near Anekal. It borders the famous Bannerghatta National Park.
5. Hogenakkal Falls, Dharmapuri
Considered the Niagra of Tamil Nadu is the Hogenakkal Falls, in the Dharmapuri district of Tamil Nadu. It is fed by River Kaveri, descending down the rocky landscape to form the Hogenakkal Falls. It is one of the best waterfalls near Bangalore.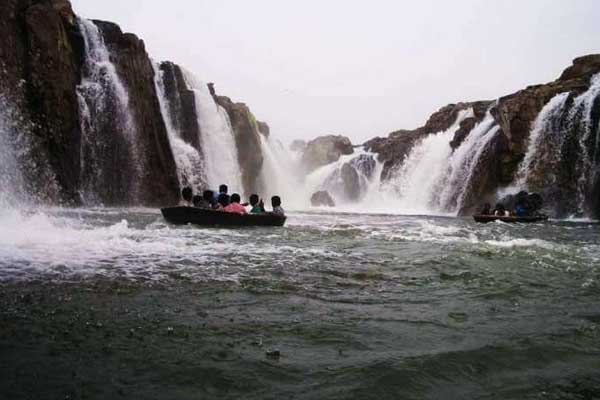 6. Mekedatu Falls
Mekedatu is a stunning rocky place with waterfalls from Cauvery River. The confluence of the Arkavathi and Cauvery rivers happens here. Since it falls within the rural district administration of Bangalore, it is an easy weekend getaway and an excellent day trip.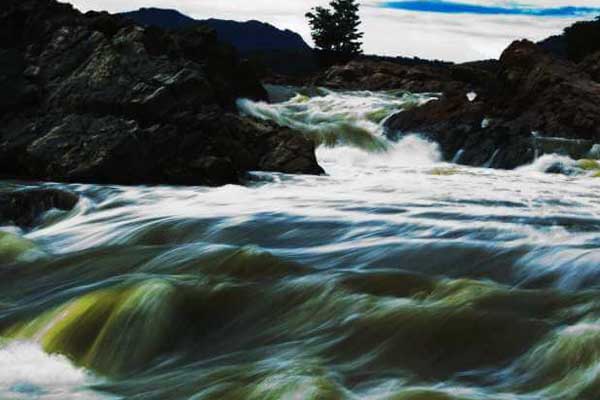 7. Balmuri Edmuri Waterfalls
Balmuri and Edmuri waterfalls are a sought-after place for adventure enthusiasts and nature lovers, making it another favourite weekend getaway. Balmuri Falls is a venue for the shooting of many films as part of its song and dance sequences.
8. Abbey falls, Coorg
Abbey falls is one of the most amazing attractions of Coorg. The panoramic view of the fall will surely enthral you and calls for some interesting 'selfie' moments. The waterfall cascades down from a height of 70 feet and provides a superb vista. This waterfall flows to unite with River Kaveri.
9. Chunchanakatte Falls
Chunchanakatte Falls is located at a distance of 55 kms from Mysore, and is fed by Cauvery River. The river gushes into Chunchanakatte forming a 60-feet tall and about 350-feet wide waterfall. The mystical thing about the Chunchanakatte Falls is that the sound of the water can be heard all over, but it is not heard inside the ancient temple.

10. Jog falls
And finally, the Jog Falls which is located in Karnataka and is India's highest waterfall. It is 830 feet high and is located on the Sharavati River. The falls has four distinct cascade points namely, Raja, Rani, Roarer and Rocket.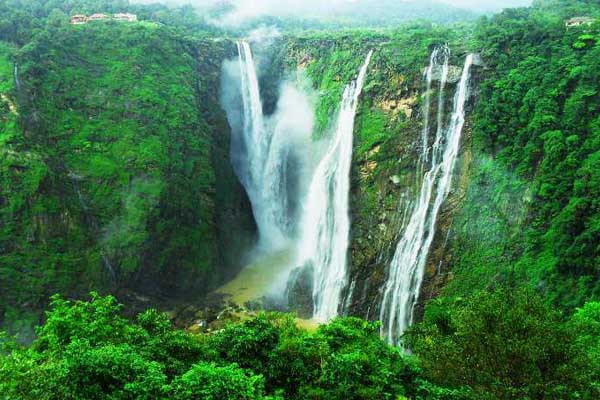 11. Talakona Waterfalls
At a distance of 241 km from Bangalore Talakona Falls is located in Sri Venkateswara National Park near Nerabailu Village of Yerravari Mandal of Chittoor district in Andhra Pradesh. This fabulous waterfall flows into a valley with good force and comes gushing from a height of about 250 plus feet, making it the tallest waterfall in Andhra Pradesh and it also happens to be a top Tourist place to visit for Bangaloreans.
12. Hebbe Falls (Near Kemmanagundi)
At a distance of 254 km from Bangalore Hebbe Falls is an amazing waterfall located in Chikmagalur District of Karnataka. The waterfall is located within the Bhadra Wildlife Sanctuary that has been designated as a tiger reserve. It is one of the top tourist places and among the best places to visit near Bangalore.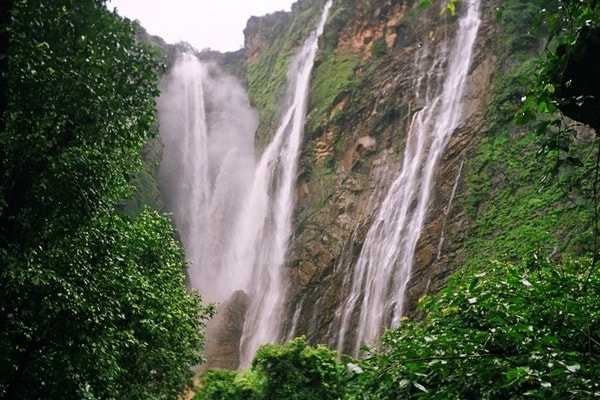 13. Unchalli Falls (Near Jog Falls)
At a distance of 425 Kms from Jog Falls and 35 Kms from Sirsi, Unchalli Falls is a splendid waterfall near Hegganur. Standing tall at 380 feet, it is one of the well-known waterfalls in the region. The water fall has it's origin in the Aghanashini River, which flows through the thick forest and falls through various levels after which it finally releases itself from an elevation of over 200 feet. It takes about 30 minutes or so to trek up till the entrance from the parking area.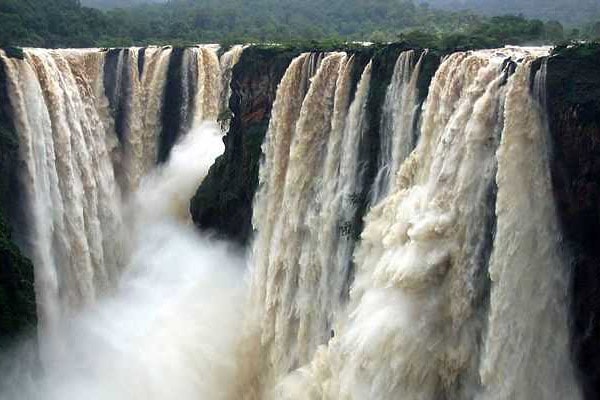 14. Mallali Falls (Near Coorg)
Located at a distance of 255 Kms from Bangalore Mallali Falls is a wonderful waterfall found along the slopes of Pushpagiri hills. It is a well-known waterfall in Kodagu having an elevation of 120 feet. It is one of the most picturesque waterfalls in Karnataka and it has its origin by Kumaradhara River.
15. Kaigal Falls / Dumukurallu Waterfalls
Situated at a distance of 123 km from Bangalore, Kaigal Water Falls, also known as Dumukurallu Waterfalls is a beautiful waterfall and falls on the Palamaner – Kuppam Highway. The source of the waterfall is big rock located at an elevation of 40 feet, No matter what seasons it is, the water is always there and it's flow takes a beautiful form during the Monsoon season.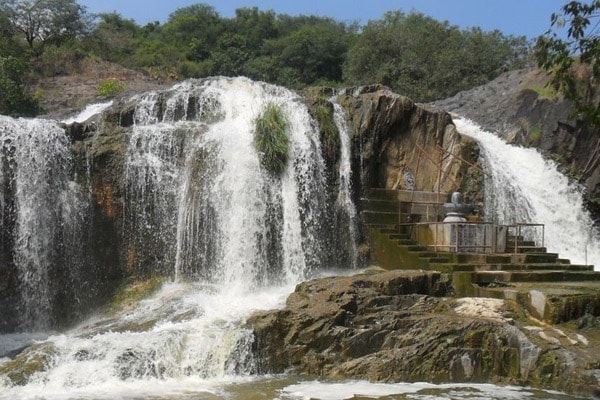 16. Kalhatti Falls
Located at a distance of 259 km approx from Bangalore . Kalhatti Falls is situated at Kallattipura in Chikmagalur district of Karnataka. It is also called the Kalhattagiri Falls or Kalahasthi Falls. It is one of the remarkable waterfalls and most scenic tourist places to visit in Kemmanagundi. The waterfall flows down from an elevation of about 400 feet via the Chandra Drona Hills in front of the Veerabhadreshwara Temple, which happens to be the most widely visited zone of this place.