India is a land of diverse beauty with a variety of unique destinations that offer unforgettable memories. Some destinations are known for their cultural and historical significance while others for its wildlife, jungles, waterfalls, tall mountains, romantic sea-shores, etc.
Let's see some of the most interesting places which are worth a visit.
1. Andaman Islands – Bay of Bengal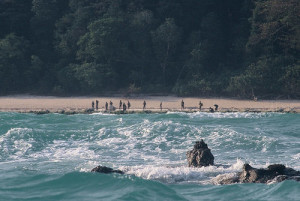 The Andaman Islands are an Indian archipelago in the Bay of Bengal. These roughly 300 islands are known for their palm-lined, white-sand beaches, mangroves and tropical rainforests. Coral reefs supporting marine life such as sharks and rays make for popular diving and snorkeling sites. Indigenous Andaman Islanders inhabit the more remote islands, many of which are off limits to visitors.
One of the best activities for visitors is diving. The closely packed islands are all about pristine silver beaches pampered by the teasing ocean waves. But if one wants to indulge into deep sea exploration then there is a lot of scope for under-sea activities that will leave one fascinated and tempted to explore more. Also check out kayaking in the open sea, swimming with Rajan the elephant, visiting the Cellular Jail and witnessing the Sound and Light Show there.
2. Gavi-Kerala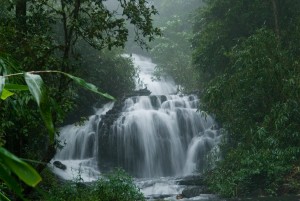 Come to God's Own Country! Gavi is an eco-tourist destination in Pathanamthitta, Kerala. It is blessed with dense forests, natural water bodies, and a plethora of rare wildlife species. It has earned a reputation among many tourism circles as the most sought-after eco-tourism hot-spot and one of the must-visit places in India.
3. Majuli-Assam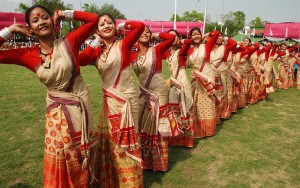 The biggest river island in the world, Majuli, with an area of 1,256 sq km, is located on the river Brahmaputra in Assam and is formed by Brahmaputra in the south and the river Subansiri in the north. Making you feel at peace with nature, it is home to many migratory birds. Majuli can be called the cradle of the cultural transformation of Assam as it happens to be the birthplace of the Neo-Vaishnavite movement founded by Srimanta Shankardev. Apart from being a cultural nerve centre of Assamese heritage it also serves as a proof of legacy as regards its cottage and weaving industry that has given employment to many in this region.
4. Corbett National Park – Uttarakhand
Jim Corbett National Park is a forested wildlife sanctuary in Uttarakhand. It is the first wildlife sanctuary set up as part of "Project Tiger". Rich in flora and fauna, it is known for its Bengal tigers. Animals, including tigers, leopards and wild elephants, roam the Dhikala zone. On the banks of the Ramganga Reservoir, the Sonanadi zone is home to elephants and leopards, along with hundreds of species of birds. It's natural setting and topography makes it to be a fine habitat for tigers plus the place is native to different varieties of flora and fauna making it an attractive destination for wildlife enthusiasts.
The park spans across Nainital and Pauri districts, and occupies an area of 1288 sq. km, along with its neighbouring forest reserves. It hosts approximately 110 species of trees, 50 species of mammals, 580 bird species, and 25 reptile species. A must-visit place for those who love wildlife.
5. JAISALMER- RAJASTHAN
Jaisalmer is a former medieval trading centre and a princely state in Rajasthan, in the heart of the Thar Desert. Known as the 'Golden City,' it is distinguished by its yellow sandstone architecture. Dominating the skyline is Jaisalmer Fort, a sprawling hilltop citadel buttressed by 99 bastions. Behind its massive walls stand the ornate Maharaja's Palace and intricately carved Jain temples. Unlike other forts, the Jaisalmer Fort houses shops and havelis, where generations continue to live.
Also visit the Jaisalmer Government Museum where one can experience the rich cultural legacy and tradition of Jaisalmer. The museum showcases some interesting collection of traditional Rajasthani textiles, kitchen and household artifacts, weapons, musical instruments, etc
6. Munnar – Kerala
Munnar is a town in the Western Ghats mountain range in Kerala. A hill station and former resort for the British Raj elite, it is surrounded by rolling hills dotted with tea plantations established in the late 19th century. Eravikulam National Park, a habitat for the endangered mountain goat Nilgiri tahr, is home to the Lakkam Waterfalls, hiking trails and 2,695m-tall Anamudi Peak. The evergreen hills, calm atmosphere and temperate climate, make this hill station one of the favourite tourist destinations in South India.
7. Goa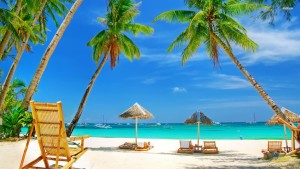 Goa always comes to the mind when one wants to indulge in some beach fun. But Goa is just not about beaches, there's a lot more –wildlife sanctuaries, river cruises, nostalgic heritage sites from a bygone era, and trekking trails across the dense hilly forests reserves. Of course, the Goan food has a special place along with street carnivals and local festivals which make it a must-visit destination year after year.
8. Ladakh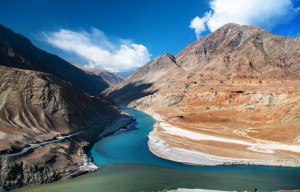 Bounded by two of the world's mightiest mountain ranges, the Great Himalaya and the Karakoram, it lies athwart two other, the Ladakh range and the Zanskar range. Ladakh, in the state of Jammu & Kashmir, is mystical in all the spheres it covers, from nature, geography, sceneries to the modest cultures that it fosters. Its beautiful monasteries stand out like sentinels in the harsh landscape. The many mountain passes and trekking trails attract trekkers and tourists alike. The people of this region are peaceful and spiritual.
9. Coorg – Karnataka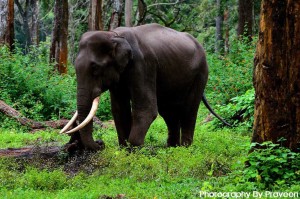 Coorg, otherwise known as Kodagu is the most sought-after hill station of Southern India. It is known for its lush green forests, flora, fauna, coffee estates, lakes and hilly waterfalls. Plus you can hike at Kotebetta and pay a day visit to the nearby Jog falls which is the second tallest waterfall in India.
10. Kodaikanal -Tamil Nadu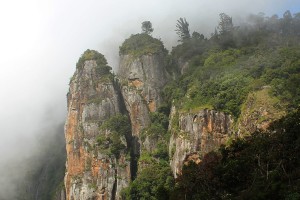 Kodaikanal is well known as the "Princess of Hill Stations" and has a long history as a retreat and popular tourist destination. It is one of the best monsoon destinations in India. Situated in the Palani hills of Western Ghats it offers enchanting waterfalls, lakes and lush greenery and spectacular views of the ghats and hills.
11. Valley of Flowers – Uttarakhand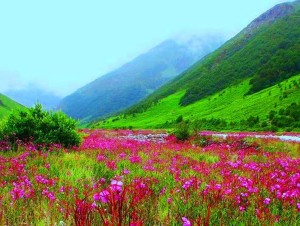 Valley of Flowers is a vibrant and splendid national park reposing in the western Himalayas. Nestled in Uttarakhand, this alluring place is famous for its charming meadows of alpine flowers. Endowed with a diverse range of endemic flora, it is picturesque in its beauty. This lush region is also home to some rare and endangered animal species. You may spot animals like Asiatic black deer, snow leopard, musk deer, red fox, brown bear and blue sheep.
12. Bandipur-Karnataka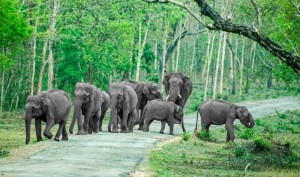 If you want to get away from the hustle and bustle of routine city life then this is the place to be. Bandipur National Park, an 874-sq-km forested reserve in Karnataka, is known for its small population of tigers. Once the private hunting ground of the Maharajas of Mysore, the Park also harbours Indian elephants, spotted deer, gaurs (bison), antelopes and numerous other native species. The 14th-century Himavad Gopalaswamy Temple offers views from the park's highest peak.
13. Dudhsagar Falls- Goa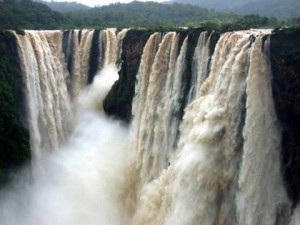 Dudhsagar Falls (Sea of Milk) is a four-tiered waterfall located on the Mandovi River in the border of the Indian state of Goa and Karnataka. It is India's highest waterfall with a height of 310 m and spanning 30 metres in width. The falls is located in the Bhagwan Mahaveer Sanctuary and Mollem National Park among the Western Ghats. The area is surrounded by deciduous forests with a rich biodiversity. The falls are not particularly spectacular during the dry season but during the monsoon season however, the falls are fed by rains and form a huge force of water, which makes it a truly spectacular sight!
14. Mahabaleshwar – Maharashtra

Mahabaleshwar is a hill station in India's forested Western Ghats range, south of Mumbai. It features several elevated viewing points, such as Arthur's Seat. West of here is the centuries-old Pratapgad Fort, perched atop a mountain spur. East, Lingmala Waterfall tumbles off a sheer cliff. Colourful boats dot Venna Lake, while five rivers meet at Panch Ganga Temple to the north
15. Mount Abu – Rajasthan
Mount Abu, is the only hill station of Rajasthan and is located in the Aravalli range in the Sirohi district. It offers a cool, contrasting climate from the otherwise dreaded heat of Rajasthan. Nakki Lake and Sunset Point are the major tourist attractions of this hill station.
16. Ranikhet – Uttarakhand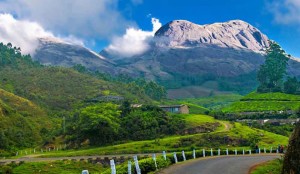 Ranikhet is a hill station in Uttarakhand. It is known for its views of the Himalayas. Hundreds of bells adorn Jhula Devi Temple, dedicated to the Hindu goddess Durga. Fruit trees grow on the terraced orchards of Chaubatia Gardens, with views of peaks including Nanda Devi. Being native to the Garhwal Himalayas gives it a flowery flavour and nature-lovers flock here to witness its endemic alpine flowers along with other variety of flowers.
17. Darjeeling-West Bengal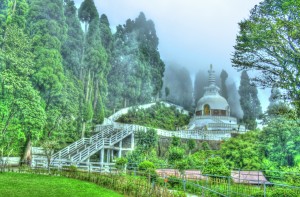 Darjeeling is one of the most magnificent hill resorts in the world. Known as the "Queen of Hills", it is situated along the foothills of the mighty Himalayas in West Bengal. Once a summer resort for the British Raj elite, it remains the terminus of the narrow-gauge Darjeeling Himalayan Railway, or "Toy Train," completed in 1881. It is famed for the distinctive black tea grown on plantations that dot its surrounding slopes. Its backdrop is Mt. Kanchenjunga, among the world's highest peaks.
18. Kausani –Uttarakhand
Kausani is a hill station situated in Bageshwar district in the state of Uttarakhand. It is famous for its scenic splendour and its spectacular 300 km-wide panoramic view of Himalayan peaks like Trisul, Nanda Devi and Panchchuli. The town overlooks the Someshwar Valley from one side and also provides marvelous panoramic views of the surrounding peaks.
19. Saputara-Gujarat
Saputara is a hill station municipality in the Dang district of Gujarat state in India. It is a favorite among tourists and is popular for sightseeing due to its beautiful lake which is surrounded by lush greenery. Boating on the lake is a pleasurable experience.
20. Pushkar – Rajasthan
Pushkar is one of the oldest cities in India. Located to the northwest of Ajmer, the tranquil city of Pushkar is a favoured destination for thousands of tourists and devotees flocking to Rajasthan. It is also known as 'the rose garden of Rajasthan', as the essence of the famous Pushkar rose is exported all over the world. The city of Pushkar is home to the only temple dedicated to Lord Brahma in the whole world. Hindus consider a journey to Pushkar to be the ultimate pilgrimage undertaken to attain salvation. The camel fair held here every year is an amazing sight!
So here are options for you. Start planning your next trip and discover all the secrets India has to offer.