The beautiful city of Hyderabad also called the Pearl City has an impressive history about the Nizam dynasty who were the rulers since the seventeenth century. The cultural ethos of the Nizams gives the city the much talked about monumental identity which has attracted both local & non-local tourists who wish to make day trips or weekend visits to the forts & palaces.
1. Anantagiri Hills – 79 Kms
The Ananthagiri forest is a lush green forest in the Ranga Reddy District. The hills are the primary water source for Osmansagar (Gandipet) and Himayathsagar which is the source for drinking water in Hyderabad. Ananthagiri Hill is the point of origin of the Musi River, which flows through the city of Hyderabad.
2. Koilkonda Fort And Koilsagar Dam (Near Mahabubnagar) – 128 Kms
To reach the summit, one needs to trek across a deep ravine on the west and if it has to be reached through east, there is a steep set of steps that leads to the fort at the top. One has to cross Seven Gates to enter the Koilkonda Fort.
3. Koulas Fort (Near Nizamabad) – 169 Kms
Koulas Fort is a huge fort that dates back to the 14th century. It occupies a whopping 6 sq km and is situated in Jukkal Mandal close to the Bidar-Nanded road. This fort was constructed by Kakatiya rulers. This fort was dominated by Muslim rulers Bahamanis, Qutb Shahis and later conquered by the Nizams.
4. Gayathri Waterfalls (Near Adilabad) – 270 Kms
The Gayatri waterfalls is a not a very well known place and is located on the Kadem River, an offshoot of the Godavari River. Along with Kuntala and Pochera Falls, the Gayatri Falls adds to the collection of fascinating waterfalls in Adilabad district. This wonderful waterfall is crowd-puller during the monsoon season.
5. Ahobilam – 351 Kms
Ahobilam is the heavenly abode of Lord Narasimha, and is the manifestation of Lord Vishnu in the mythological man-lion form. According to scriptures, this is the venue where Lord Narasimha killed Hiranyakasipu and saved Prahalada.
6. Narsapur Forest – 50 Kms
This place is about 30 KM from Balanagar junction. Being a small forest that spans just 4-5 KM of the expressway, yet it is blessed with everything nature has to offer as kit has got a beautiful ghat area, lush woods, a lake, umpteen number of bird species quite a lot of monkeys. No wonder all This makes it a perfect trekking zone.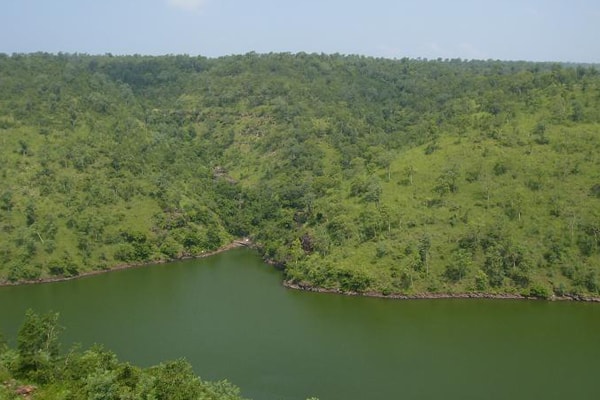 7. Srisailam – 213 Kms
Srisailam is an excellent timberland and also has a big dam on Krishna river and quite a number of waterfalls. Plus, it has an amazing flora & fauna making It a wonderful spot for trekking.
8. Talakona Trek – 561 Kms
Talakona is located in the Nagari valley, 45 KM away from Tirupati across the lush green slopes of Nallamalai range which is home to some Talakona Waterfalls It hosts many trekking routes however it would be better if a trek guide is hired as they know the trail too well & are part of the local forest protection communities that are maintained by the forest division.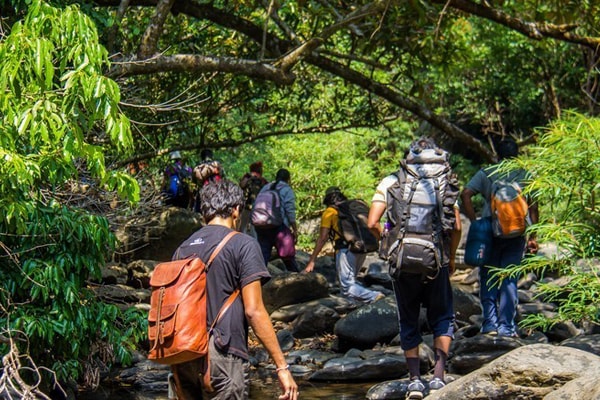 9. Bhongir Fort – 48 Kms
If you wanna savour history and adventure then trekking across the BHONGIR FORT makes for a perfect adventure. Bhongir Fort is an extraordinary way to spend the day in case you're hoping to do some light trekking. The fort that is enclosed in a dugout has an underground chamber that is believed to connect Golconda fort located 50 km away.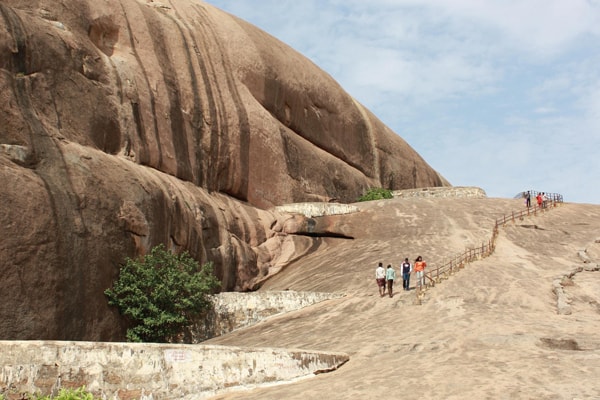 10. Araku Valley – 672 Kms
Araku Valley in Visakhapatnam is one of the most scenic hill stations near Hyderabad that is famous for its rich ecological diversity. All this makes this place a ideal trekking zone as it involves an interesting nature l walk through dense forests, coffee plantations and more.